mln::value::int_u< n > Struct Template Reference
Unsigned integer
value
class.
More...
#include <int_u.hh>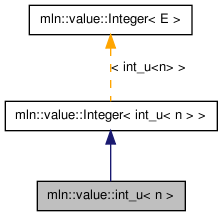 ---
Detailed Description
template<unsigned n>
struct mln::value::int_u< n >
Unsigned integer
value
class.
The parameter is n the number of encoding bits.
---
Constructor & Destructor Documentation
Constructor without argument.
Constructor from an integer.
Constructors/assignments with literals.
---
Member Function Documentation
Give the next value (i.e., i + 1).
Conversion to an unsigned integer.
Assignment from an integer.