Thierry Géraud
From LRDE
Status
Pr, member of the permanent staff of the LRDE.
Nota bene: I've got an habilitation (french HDR) from Paris-East University.
I'm also Associate Researcher with A3SI / LIGM.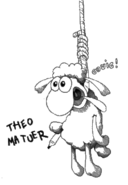 You'll find a corporate picture of me here.
Research Topics
Image processing and pattern recognition

Mathematical morphology
Discrete topology
Algorithms

Programming languages and paradigms

Efficient software for scientific computing
Static C++ and meta-programming
Software engineering for scientists
Publications
An exhaustive list is available -> HERE <- .
I've also a Google Scholar page.
Extra Stuff
Some materials about:
software snapshots,
students,
lectures,
internship proposals,
have been moved on another page.
Contact information
Login: theo
Email: thierry.geraud@lrde.epita.fr
Phone: +33 1 53 14 59 47
Fax: +33 1 53 14 59 13
Department: EPITA Research and Development Laboratory (LRDE)
Location: 14-16 rue Voltaire, F-94276 Le Kremlin-Bicetre, France
Agenda
My agenda is here